Local
V F Siciliano & Sons has been a stone fruit supplier to the local and overseas markets for over 35 years, and directly to the major supermarkets in the eastern states of Australia for over 15 years. Utilising more than 140 years of farming experience, the business has always been able to meet the growing demand for stone fruit, whether domestically or overseas.
The packaging format and label is specifically tailored for the particular buyer, whether in Class 1 bulk 10kg carton, Premium tray in either 5kg, 3.5kg, and 2.5kg , or pre-packed lines in 1kg.
The Siciliano brand is recognised around the world for its premium quality stone fruit.
Melbourne Market, Epping
VFS Produce Pty Ltd
Paul Angelucci,
Mobile: +61 419 878 926
Store Address:
Store 40
Melbourne Markets
35 Produce Drive
EPPING VIC 3076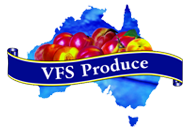 Postal Address:
Store Mail Box 40
Melbourne Markets
35 Produce Drive
EPPING VIC 3076
Warehouse/Delivery Address:
Warehouse 2
Unit 7, Badalya Road
Melbourne Markets
EPPING VIC 3076